Back to all Events
Polemics J-Term with James White
Monday, January 03, 2011
,
5:00 PM - Friday, January 07, 2011, 10:00 PM
Location: Midwest Center for Theological Studies, P.O. Box 8036, Owensboro, KY US 42302
Category: J-Term Module
Coordinator: Eddie Goodwin at ( )
RSVP: Register for this event
*Once you complete the RSVP registration above, please use the Paypal icon below to view and complete payment processing.
Course Description: Polemics (2 CREDIT HOURS) Dr. White will be addressing The New Atheism, Islam, Roman Catholicism, and Mormonism.
REGISTRATION BEGINS: November 1, 2010
DOWNLOAD SYLLABUS: HERE
Lecturer Bio: J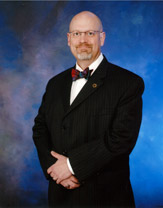 ames White is the director of Alpha and Omega Ministries, a Christian apologetics organization based in Phoenix, Arizona. He is a professor, having taught Greek, Systematic Theology, and various topics in the field of apologetics. He has authored or contributed to more than twenty books, including The King James Only Controversy, The Forgotten Trinity, The Potter's Freedom, and The God Who Justifies. He is an accomplished debater, having engaged in more than seventy-five moderated, public debates with leading proponents of Roman Catholicism, Islam, Jehovah's Witnesses, and Mormonism, as well as critics such as Bart Ehrman, John Dominic Crossan, Marcus Borg, and John Shelby Spong. He is an elder of the Phoenix Reformed Baptist Church, has been married to Kelli for more than twenty-seven years, and has two children, Joshua and Summer.
Course Details:
Course cost includes dinner Monday – Friday at MCTS campus
MCTS will shuttle any students flying into Evansville, IN
Heritage Baptist Church members will host any students needing housing. Students will be responsible for travel to and from the MCTS campus, though we will attempt to help as much as possible.
Host homes will provide breakfast Tuesday - Saturday
Local hotels are available
Possible mid-day discussions with Drs. White, Waldron, and Barcellos to be broadcasted on the internet
Mid-day use of local gymnasium
Course is limited to 35 out of town students, 15 resident students, and 100 internet students
Registration begins: November 1st, 2010
Lecture Schedule:
Monday – Friday (January 3-7)
Lecture #1 5:00-6:30pm
Dinner 6:30-7:15pm
Lecture #2 7:15-8:30pm
Lecture #3 8:45-10:00pm
Saturday (January 8)
Lecture #1 9:00-10:15am
Lecture #2 10:30-11:45am